The Soap Guys' Picks
Crafted for you, chosen by us: What the Soap Guys get sudsy with.
Here at Soapy Soap Company, we love experimenting with our soap making and creating new soap bars for you to try. Naturally, we each have our own favorites that we just have to lather up with each morning. And this got us thinking. We wanted to share our favorites with you so that you can discover why we like them so much, and maybe even get to know each of us a bit better in the process! We decided that, throughout the year, each of us will select four soaps to offer you as a part of our
Soap Guys' Picks Limited Edition soap bar selections
.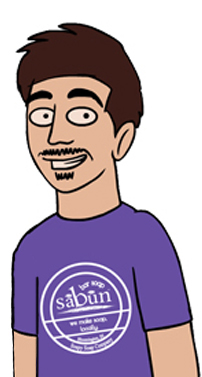 Anthony primarily chose his soaps due to their earthy scents and their rich, thick and creamy lathers. Our Power Bubble base is Anthony's favorite, and, since we've only had one soap that uses our Power Bubble base, Anthony was determined to make some more. So, he made Charcoal Anise — a black licorice scented soap featuring activated charcoal — and VetiFir — a strong, earthy scented soap reminiscent of forests of evergreen and pine. Anthony also loves the moisturizing properties and the bubbly lather of our Replenish base, which is why he used it for his subtly sweet and flowery scented Lime Geranium soap and his self titled Anthony Spice soap, which contains his five favorite essential oils — Clove, Eucalyptus, Fir Needle, Spearmint, and Cypress. All in all, Anthony is sure his soaps will be big hits for the turn of the season.